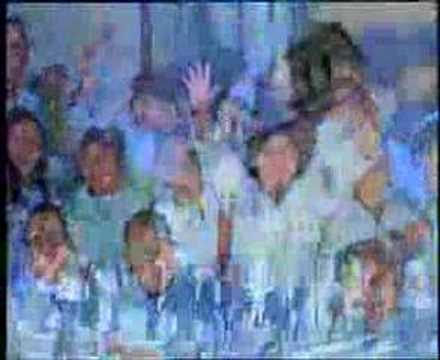 *This post has been updated to better reflect the more nuanced perspective which I wished to convey in the original post.
It's been almost exactly 10 years since this advertisement hit Argentina's airwaves. It was in many ways a triumphant moment for Carlos Menem, the former president. At the same time, it was a low point, with his approval rating hovering below 30% despite years in power.
Though detractors easily forget or simply – though often fairly and accurately – dismiss his achievements, Menem accomplished many positive things for the country.
Menem is now demonized in black and white terms that are unfair to both him and the nation. That's not to say, of course, that Menem was a saint. Clearly, he wasn't. Not all of his actions benefited the country. Indeed, some of them actively damaged the country in ways that still have repercussions today. His legacy has been forever tarnished by allegations of corruption, illegal arms trading and a host of other excesses.
But like so many things in history, Menem's presidency cannot be fairly critiqued in binary terms. He was in power for about decade, longer than any other president in Argentine history, during which time he radically transformed the Argentine economy, the country's infrastructure, and the world's view of Argentina.
Argentina's modern, functioning telecommunications, transportation and hospital infrastructure networks exist today largely because of policies pursued by Menem. And yet much of Menem's legacy and reputation – perhaps rightly so – have come undone in recent years.
Yet it doesn't benefit the country to dismiss Menem's presidency in blanket terms. Doing so provides us with only part of the picture and therefore hinders our ability to learn from Menem's achievements – and yes – his mistakes. His privatization policies brought great reform but also at great cost to the government's credibility because of questions about how the privatizations were carried out.
To learn from Menem's legacy, it would behove all of us to study it objectively, acknowledging what went wrong but also what went right.
It may well be that the negatives outweigh the positives. But we can only know this if we fairly evaluate the Menem legacy from beginning to end. To paint his government in simpleton terms does justice to no one. It merely perpetuates partisan bickering that lead us nowhere positive.
Few presidents, like few humans, are entirely black or white creatures. Our achievements, as well as our moral compasses, sometimes point in different directions and are sometimes better understood in terms of degrees or shades of color instead of in black and white. To deny this is to deny human nature.
This video is a preview to the next post, which will look at how Argentine presidents tend to attack and undo everything done by their predecessors.
For a fascinating and more detailed look at Menem's presidency,  check out this 1999 Newsweek article.