By Laura Mannering
Classes on bedroom technique for women are booming in Argentina's capital
It's a sunny Saturday morning in a respectable residential neighbourhood of Buenos Aires. People are walking their dogs, loading up shopping bags at bakeries and greengrocers, enjoying a porteño breakfast of coffee, orange juice and croissants at one of the many outdoor cafés. But close by, in the living room of a small top-floor apartment, a group of local women gather to spend a few hours away from the weekend routine.
Their host, Paola, buzzes about offering cold drinks and answering the doorbell, which rings every couple of minutes with new arrivals. There are 21 women, aged between 20 and 50, crammed onto sofas, perched on the arms of chairs or settled into what space they can find on the floor. They are well-groomed and polite, making small-talk while waiting for their class to begin. The black leather massage bed in the corner of the neat plain room is the only reminder of where we are – the headquarters of Argentina's first sex school. Women come here for practical lessons on how to improve their bedroom repertoire, and this morning is the popular erotic-massage class.
PK Escuela de Sexo was started by Paola Kullock, the sister of a well-known Argentine actress. A professional masseur, Paola has now become high-profile sexpert – she has published a book, frequently appears on TV and radio, and fronts her own raunchy theatre show.
The school started as a small-scale project six years ago, after Paola had searched for a striptease lesson for herself without success. The first class she gave was a sex toys workshop, which eight women attended. Now, she offers a huge range of classes, from erotic technique, to role-play and striptease, with lessons delivered by Paola and her assistants. The classes cater to groups or individuals and most are exclusively for women, though there are also a few separate courses for men.
For a country in which contraception was only legalized in 1985 and where abortion remains illegal, the sex school is pushing new boundaries.
"Women come here at different stages in their lives, it's not simply to do with age," says Paola. "They might want to breathe passion back into their relationship, or to start again after a break-up. They come when they have a new lover, or when they marry for the second time. They are in a phase where they want to learn and have fun."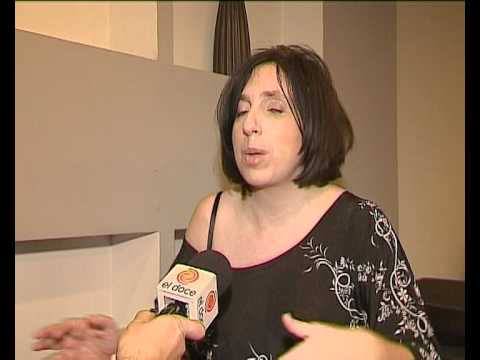 Some of the women at the Saturday morning class are married, some have boyfriends and a smaller number are single. Paola demonstrates massage techniques on her live model Poli, dressed only in boxer shorts, who is an ex-boyfriend. We are then invited to have a go ourselves – Poli remains seemingly non-plussed, giving helpful suggestions.
When the class progresses to masturbation techniques, he straps on a prosthetic penis. The women watch intently before trying to apply what Paola has shown them, while Poli continues to advise politely. There is a studious atmosphere, peppered by frequent bursts of hysterical laughter.
"I think that younger women are a lot more liberal now in Argentina," says Luz, 24. "I talk to my friends about sex and have a couple of guys that I am seeing. I have a date right after the class! We are the most open country in Latin America – the government has just legalized same-sex marriage – and I am proud of that."
"We're much freer than our parents' generation,' says 30-year-old Sara. "I can talk openly with my boyfriend about sex and we like to experiment. I'm even buying him one of Paola's courses for men."
Older women too are learning to broaden their horizons: "There are students of 60-plus who fall in love for the first time and are excited to try new things which they never would have done before," says Paola.
Female-friendly sex shops are also popping up in the most fashionable areas of the city. In Palermo, where the streets are lined with up-market boutiques and cafes, there are three such shops within 10 minutes of each other. At Les Amants, colour-coordinated displays include everything from satin corsets and PVC dresses, to massage oils, body paints and state-of-the-art vibrators in all shapes and sizes. A chandelier hangs from the ceiling, cabinets are draped with boas and pearls, and adorned with champagne glasses.
"This is not a sex shop," says Agustina Zuberbuhler, the 38-year-old owner and mother of two, "It's what I call a love store. Sex shops are more for men, they're dark and in places which scare people. Our clients are mostly women buying for themselves or to experiment with their partners. They can come in, have a look round and ask questions, in a relaxed environment."
Dolcediva, on a leafy street in the same neighbourhood, already has a base of regular customers after opening last February. Like Les Amants, there is a girl's boudoir feel – the décor is cerise pink, the changing rooms hung with velvet curtains. "Our idea is to connect women and couples with their erotic side, and to engage their imaginations," says owner Sol Fernández Oro, 31. "The women who shop here are between 20 and 55 and want to increase the seductive element in their lives. Our most popular products are underwear and flavoured oils for full-body massage."
"Shops like this are growing in popularity because women are opening up as far as their sexuality goes. There are still conservative attitudes – people sometimes come into the store with a friend and openly say that they don't like the idea of sexy underwear or toys. But I think that we are becoming less repressed. We feel able to say and do what we want, without worrying about being judged."
Virginia Martinez Verdier has been a sex therapist and psychologist in Buenos Aires for over 20 years and sees these new developments as a continuation of the cultural liberation that started in the 1980s. "There is definitely more on offer nowadays and it's great that women of all ages are exploring their sexuality. Attitudes have gradually been changing since we became a democracy again – there is much more acceptance of the different possibilities, same-sex relationships and transsexuality, for example."
But, she says, these freedoms still don't stretch to all sectors of society and young people have new struggles to contend with. "I wouldn't generalize about how free women are. Young people feel enormous pressure to do things that they feel they should do, rather than what they really want to do, because of the sexualisation of women on TV and in the media. We sell sex these days. It's a commodity. I still see plenty of 20 year olds who are having great difficulty coming to terms with their sexuality. The new age of liberal experimentation is also really a phenomenon among the middle and upper classes. It's not something that all women have access to."
She points out too that Argentina still suffers from serious issues around sexual health and education. "Although schools are supposed to give sex education, and free contraception is supposed to be available in hospitals, it doesn't always happen, and that's a political issue. Because of that, there is a high number of unwanted pregnancies and illegal abortions in Argentina. That's the reality for women at the other end of the social scale."
Even for those women who are free to experiment, however, there is still some way to go, according to Paola Kullock.
"We tend to think one thing, say another, and do something different," she said. "We buy sex toys because it is cool, but we don't know how to use them. We let ourselves be freer, but we still fake our orgasms. Hopefully as this culture of openness grows, we'll be able to start really enjoying ourselves!"
*London-based journalist Laura Mannering visited Buenos Aires at the end of a 10-month round the world trip. In an upcoming piece, she looks back at the places and people she got to know along the way. You can contact her at: lauramannering@hotmail.com