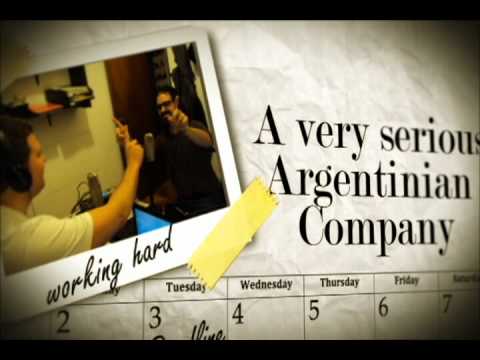 Looking for a fun, entertaining and insightful look at Argentina and its cultural quirks?
Look no further. BA Cast has arrived.
Expat Daniel Karlin (Portland, Oregon) and Buenos Aires native Fernando Farías (Monserrat) have teamed up to provide you with a weekly podcast looking at everything from lunfardo to tax evasion and the "laws of mate."
The shows, available online or via iTunes, are professionally-produced, intelligent, witty and even educational.
I asked Dan and Fernando a few questions for The Argentine Post.
How did you guys meet?
Fernando: I work for Radio Nacional's Foreign Service (RAE), producing and hosting the English-language program. In early 2009, I had the idea of starting a section about Expats living in the city for the radio, and the first guest was Daniel. The Podcast is an idea I had about three years ago, but only last year (2009) I could start working to materialize it.
When I started thinking about a partner, I checked  the short interviews I taped at the radio. In his piece, Dan quotes his wife saying "Daniel habla tantas boludeces"…and when I heard that I said: "That's the guy". We had the first BA Cast-related coffee in late Jan 2010. And here we are.
Why did you start the show?
Fernando: I love radio, and I believe there's always a niche for radio ideas. With so many foreigners living in the city, I thought it would be interesting to have something dedicated to them. Of course, as we evolved in the pre-production we realized there was a lot more potential in exploiting the cultural differences, tensions and different mindsets, than just listing stuff to do in the city or be kind of a tour guide.
Daniel: Because for me the idea of turning what is usually a bitching and moaning session by foreigners about Argentines, and vice versa, into a cultural, political, social and economic debate is both fascinating and exhilarating. Then when we came up with the ideas of doing skits, songs, dubs, films and the like, thinking of the post post-modernity of it, in relation to the bicultural, bilingual and multinational influences made it truly unique to me, and I greatly value uniqueness.
What are your goals with this show?
Fernando: To reach a new generation of truly global people, who are multilingual, multicultural. The excuse is life in Buenos Aires, but it's about cultural clash.
Daniel: I would only add to that that so often I have been asked the question, as Fer has, "Which place is better?" and my answer is that they are not better, just different. However, knowing that there are distinctly better things about each culture, and the things it produces, I wonder: Is there a way that the best of each culture can be combined? How do we get there?
Where do you record the show?
Fernando: Mainly at Anuva House in Cañitas, but sometimes in public places like Sugar Bar.
What do you do for a living?
Fernando: I'm a radio presenter and producer. On top of working for Nacional, I do replacements in Aspen FM, an 80s music station.
Daniel: Entrepreneur: I own or have started several different businesses.