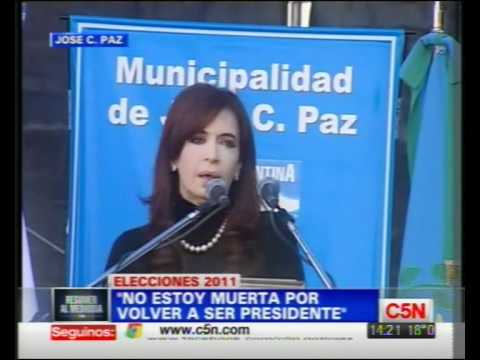 Argentine President Cristina Fernández gave an exceptionally emotional speech Thursday in which she indicated she's going through a very difficult period.
"I'm not dying to be president again muchachos," Fernández said in an unusually emotional manner. "I already gave everything I had to give. Nobody is going to push me around. I want you to know that I'm making an immense personal and even physical effort to move forward."
Fernández has always worn her emotions on her sleeve, even before the unexpected death of her husband and predecessor, Nestór Kirchner, last October. But Thursday's speech may have been more revealing than usual. Fernández appeared physically and emotionally exhausted and she admitted to as much in the speech.
It's unclear what her comments indicate, if anything at all, about her plans to seek reelection in October's presidential election. Indeed, it still seems likely she'll seek reelection. But the manner in which she spoke seemed to indicate an unusual sense of vulnerability.
Fernández slammed unions, indirectly attacking the Confederación General de Trabajo, for praising her in public while simultaneously making life more difficult by staging strikes, blocking streets and demanding wage hikes that spur inflation.
"I want to say with all sincerity that I'm tired of the hypocrisy. I'm tired of those who say they're helping out and that they're living on my behalf but who then turn around the next day and do exactly the opposite so that all of this falls apart," Fernández said.
Fernández didn't say precisely what she meant when she said that nobody is going to push her around. Was it a reference to union leaders in the CGT who publicly called for her to seek reelection or who are constantly pushing for higher wages? Was it a reference to people in her own party who are pushing her to run? Was it a reference to critics who urge the country to abandon the government's policies? It may have been a combination of all these, with special emphasis and disdain reserved for CGT leader Hugo Moyano.
There's no question that Fernández would face a harder time governing Argentina in her second term than in her first. She faces multiple challenges, not the least of which is rampant inflation that threatens to undue key pillars of the government's economic model. Meanwhile, union pressure has reached a fever pitch and Fernández, unlike her husband, doesn't appear comfortable engaging in trench warfare with "los gordos." Hence, the raw emotional discomfort displayed in her speech.
What does seem clear is that Fernández doesn't want anyone else telling her what to do. She doesn't want anyone forcing her hand. The word most used in her speech was "quiero," or I want. She said "I want" this or "I want" that more than two dozen times. But it may be that this is more a reflection of what she doesn't want.
It may be that the president is struggling to balance the demands of what she wants for herself with what others – like Moyano – want for her, or even with what she feels obligated to do for personal or political reasons.
Perhaps Fernández feels pressured to run for reelection to ensure that the policies put in place by herself and Nestór aren't undone overnight if someone else becomes president. Perhaps she wants to respect his legacy, as well as her own, and carry the torch, but doesn't really want to spend another four years in office.
One reason to suspect that Fernández will run is that there is no clear candidate to replace her. None of the viable options would necessarily maintain her policies or style in power. If she gives up now, it would be tantamount of giving up on the "model" she and her husband worked so hard to implement. In essence, giving up on power now would mean giving up on Kirchnerismo itself.
Buenos Aires Governor Daniel Scioli, an unceasing Kirchner supporter, seems well-positioned to take the baton if Fernández doesn't run. But even Scioli would change course and pursue more moderate policies. Moreover, many Fernández supporters distrust Scioli and fear he would be "too market-friendly, too much like Menem."
Grief can be exhausting. Imagine how hard it would be to grieve normally while also managing the interests of a nation like Argentina.
After all, it's lonely at the top, and even more so if you're a grieving widow in charge of a nation where personal predilections outweigh institutional concerns.
Critics on Thursday said the president's emotional display was merely a campaign act aimed at gaining votes and making her seem more sympathetic. But to others the emotion was raw and real, the revelations of a woman struggling personally, if not politically, just months ahead of a decisive election.
Psychological speculation aside, Argentine politics are intensely personal. Personalities perennially trump parties and institutions.
The history of Argentine politics is one of charismatic personalities imposing their will on the political culture, often at the expense of civic institutions and the development of enduring political platforms. Most of Argentina's political isms – Peronismo, Menemismo, Kirchnerismo – are based more on personalities than on policy preferences or enduing world views. This is just one reason it is so hard to define Peronism.
All this means that the personalities and personal quirks are potentially more important here than in other countries where personal predilections are somewhat constrained by institutional checks and balances or political tradition.
And that, in turn, may make it even more pertinent – perhaps even more telling – when a person such as the president injects so much emotion and personal exposition into the public arena.