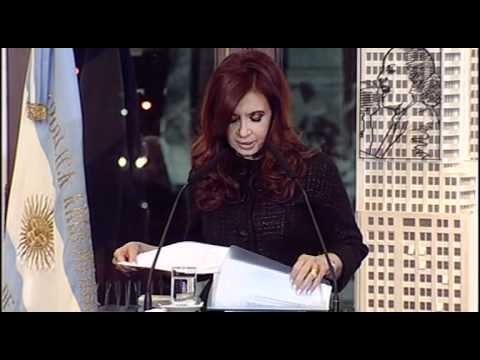 Argentine President Cristina Kirchner is better known for her politics than for her musings on theology. But she broke with custom Tuesday and offered some thoughts on the latter.
"I am absolutely sure that God loves everyone. Because of that, if there's life, it's because God wants there to be life. If things happen, it's because God wants those things to happen. And God blesses all of us. He doesn't just bless those who think one way. He blesses even those who don't pray to him and he also blesses those who curse him. Because of that, he's God and because of that we continue believing in him and because of that we continue having the strength to move forward as Argentines."
Of course, if Kirchner is correct, then her political opponents, as well as the journalists she often criticizes, are simply behaving the way God wants them to behave. But if that's the case, how can they be blamed for simply acting in accordance with God's will?
Labor union boss Hugo Moyano led a national strike last week, against the government — because God wanted him to do it? Buenos Aires Mayor Mauricio Macri rejects Kirchner's plans to turn the subway system over to his district — because God wants him to do so?
Taking it to the extreme, could we explain the actions of Hitler, Mao and Stalin the same way?
What about other things happening around the world? Kirchner has said "the world is falling on top of us" in reference to global economic and financial problems. But these too, in this theological worldview, are happening because God wants them to happen.
The theistic preordination of affairs — and what some would call its atheistic counterpart, mechanistic determinism — have long stirred debate among philosophers of religion. If events are determined in advance, either by the mind of God or by the physical nature of the universe, then we must grapple with numerous logical questions, not the least of which is the famous problem of free will. How can we have it if we're simply doing what God wants us to do? At what point do our own wants and desires enter into the equation, if at all?
Kirchner didn't delve into any of this on Tuesday and it seems unlikely she will in the future. But who knows. Her speeches are unpredictable. Perhaps God wants it that way.
You can watch her make the comments above, starting at minute 13:00.