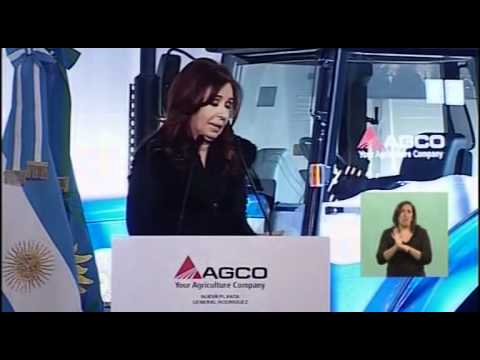 President Cristina Kirchner said Wednesday that she had asked the national tax agency, AFIP, to investigate a man after a newspaper quoted him saying the real estate market is in bad shape.
The man, who reportedly runs a real estate agency and was quoted Sunday in Clarin, told the paper that the government's latest limits on the purchase of U.S. dollars have rattled the nerves of potential buyers and caused them to think twice before agreeing to buy property.
In recent months the government has severely limited access to the foreign exchange market, making it virtually impossible for many people and companies to buy dollars and other currencies. Given that almost all home sales in Argentina are done in dollars, the crackdown has hurt the real estate market.
"Dollars are just a collector's item now. The feeling people have is that if they let go of their dollars (to buy a house), they'll never see them again," Rodrigo Saldaña was quoted as saying. "Because of this, when we suggest to people that they accept pesos, 90% of them resoundingly say no." As a result, Saldaña said, deals fall apart immediately. People selling homes want dollars while people buying homes are afraid to give them up.
Saldaña's real estate agency typically closes between 12 and 15 deals a month, but last month they closed just two, according to the article.
Kirchner, who became a millionaire thanks to the real estate business, said she personally called AFIP Director Ricardo Echegaray and asked him to look into the matter. He did.
It turns out, Kirchner said, that Saldaña hasn't filed taxes since 2007.
"He either lied to the newspaper or he lied to AFIP," she said.
Whatever the case, for the purposes of this post, it's immaterial whether Mr. Saldaña or the real estate agency paid its taxes.
What matters for this post is that Argentina's president admitted in public — in a nationally televised speech which broadcast networks were forced to carry —  that she has used the tax agency to investigate people for saying things that she finds questionable.
The implications of this could be broad: Who will want to speak on the record, openly and honestly, if they have something to say that could even remotely be interpreted as negative by President Kirchner or someone in her administration? It now seems clear that doing so could carry political, social and even legal risks.
There's nothing new about the idea that Argentina's government uses the tax agency to persecute people and businesses. Sources have been telling journalists this for years. What's new is that, for the first time, the president has publicly acknowledged that it actually happens.
It was already quite hard to get key people in Argentina to comment on the record. Many sources decline to go on the record because they fear it would anger government officials and lead to some kind of retaliation. Indeed, the government has targeted some critical economists and business leaders with heavy fines and even threats of jail time.
Many government officials routinely refuse to speak on the record, even when talking about the most innocuous things. Some officials fear angering others in the government, possibly even the president.
Quoting people off the record is a valuable and standard practice in journalism. In Argentina, especially, it is has become an essential and necessary element of basic reporting. But it carries for risks journalists, readers and society at large.
If a person is unwilling to attach his or her name to a statement, how can you know how accurate the statement is or how much the source believes it? Journalists have to be extra careful when answering this question. People who speak only off the record are less accountable than those who are willing to be held accountable in public for what they say.
This makes it important for people to be able to feel free to speak openly.
Legal analysts said President Kirchner broke the law by revealing Mr. Saldaña's name and publicly discussing his tax situation. The president herself admitted, after saying his name, that she wasn't supposed to do so: "–dije el nombre, no tenía que haberlo dicho, no importa."
Of course, none of this justifies tax evasion, if it took place. But that's another matter.
Mr. Saldaña said people are afraid to give up their dollars to buy property.
After this investigation, more people may be afraid to give up something even more valuable: their own words.
*You can see the comments at the 26:30 minute mark in the video.