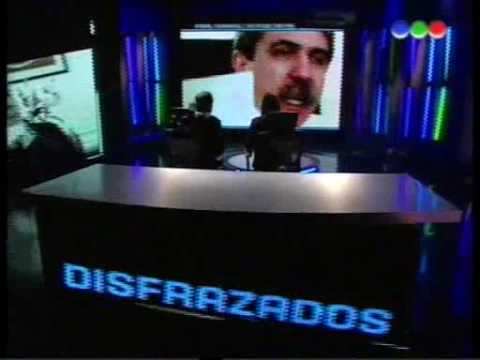 Aníbal Fernández is nothing if not controversial.
The mustachioed presidential cabinet chief is President Cristina Fernandez's chief attack dog, chief PR agent, chief public defender and chief political prosecutor.
More than anyone else, he represents and defends the president's policies in public and to the media. He is the public face of a president who distrusts the media and virtually never gives interviews.
Fernández, who is not related to the president, is therefore the guardian the presidential gate. He opens the doors, and closes them, and takes on all comers, big and small, with merciless intensity.
A near exact lookalike of the star of the famous Mario Brothers video game, Fernández is famous – or infamous, depending on your partisan predilection – for his quick wit and wicked fast tongue.
He loves debate and is often very good at it. He's also funny – Argentine street funny, not Robin Williams or Stephen Colbert funny – and he has the unique ability to come off as a complete jerk yet also as a likable fellow.
He comes off as a jerk because he rarely misses an opportunity to insult those who question the government, its policies or its protagonists. But he can sometimes come off as likable because he slams his opponents with a hint of humor that seems beyond the reach of most political pugilists.
Fernández gave an unusually interesting interview to the TV station Telefe this week. The first clip is posted above, the second below.
In the interview, Fernández said he doesn't care about being a nice guy. "It's not that I like irritating people," he said. "Let's say that I don't dislike it."
Unfortunately, both clips are in Spanish. But if your Spanish is up to par, the interview is worth watching for its sheer entertainment value. But it also allows you to see how seriously – or not – the government takes itself, or at least how it tries to portray itself to the local culture.
The interview is exceptionally laid back. Just look at the clothing worn by the journalist from Telefe. He's dressed as if he were about to go out for beers with his buddies, not as if he were interviewing the presidential cabinet chief in his office. Moreover, the interview is mainly personal and delves little into public policy.
Instead of talking about the future, say, of social security or how China's aging population may change its demand for Argentine soybeans over the next decade, the interview addresses subjects such as Fernández's sex life and the likelihood that he might have sex in his office.
Among other things, Fernández says he:
*Starts his day at 5am with a workout, then works until 11pm. In one video clip, taken from an older interview, he said he starts work at 6:45am while his critics, like Congressman Felipe Solá, haven't "even gotten up to piss by that hour."
*Has given up his personal life to work in politics, but hasn't given up on sex.
*Believes in God and Christ but doesn't believe in priests, bishops or the Pope. The God he believes in would support gay marriage.
*Thinks Buenos Aires Mayor Mauricio Macri is "lazy and knows nothing about politics."
*Thinks 98% of Argentine businessmen lie on their tax returns.
*Thinks that "in Argentina lying is something that is more or less common."
*Would marry Commerce Secretary Guillermo Moreno before ever sitting down to negotiate with the director and owner of the newspaper Clarín.
Enjoy!